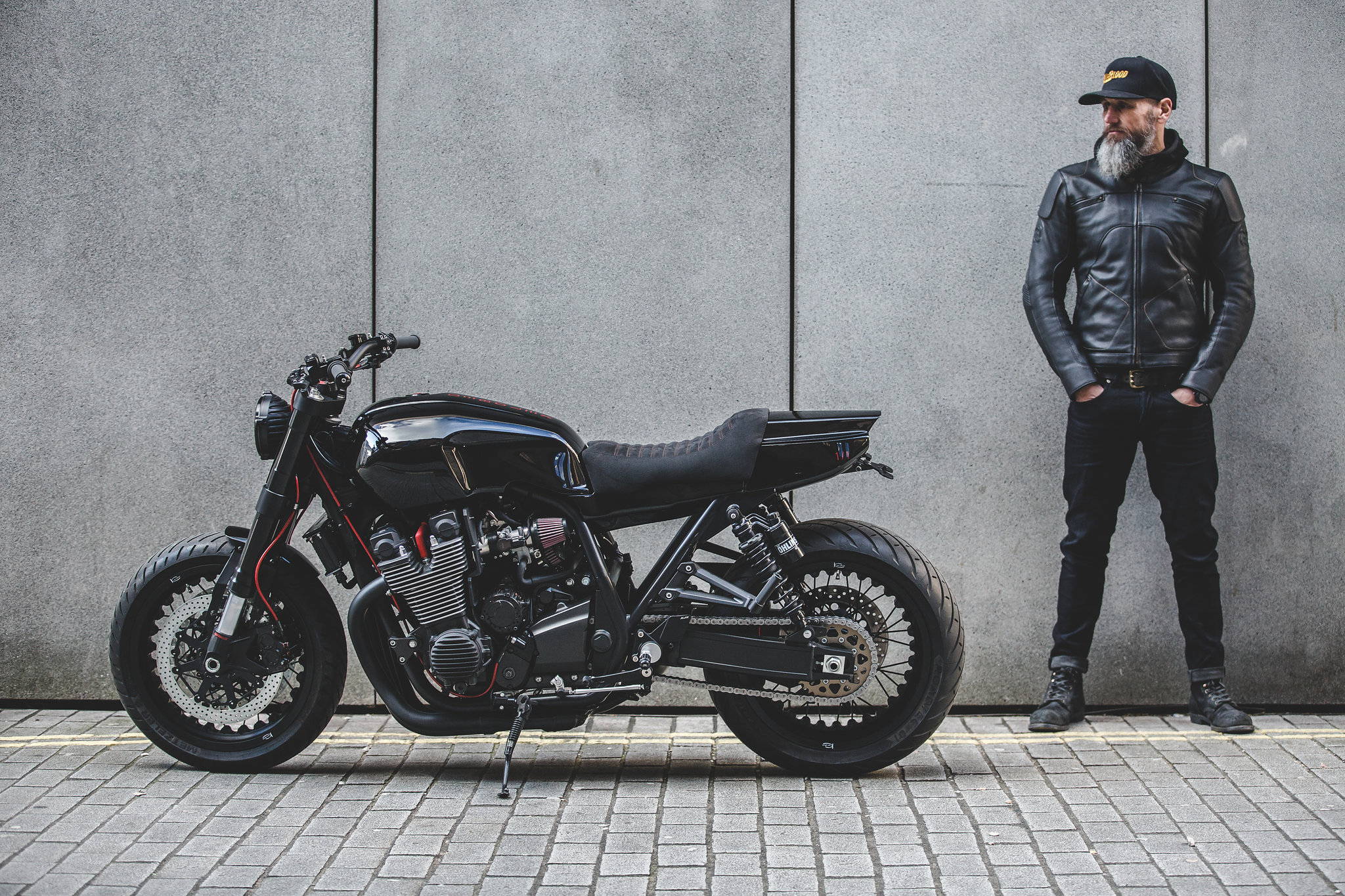 Hedonism in its pure form is the pursuit of pleasure and often thought of as a self-indulgent pursuit. We're all about the love at Hedon though and we think finding pleasure together is always preferable to doing it alone!
We hit up our friends who share the love of riding with their partner to get an insight into the delectation that is motorcycles. This time we Speak to Gareth and Mégane and Eleanor and Sam.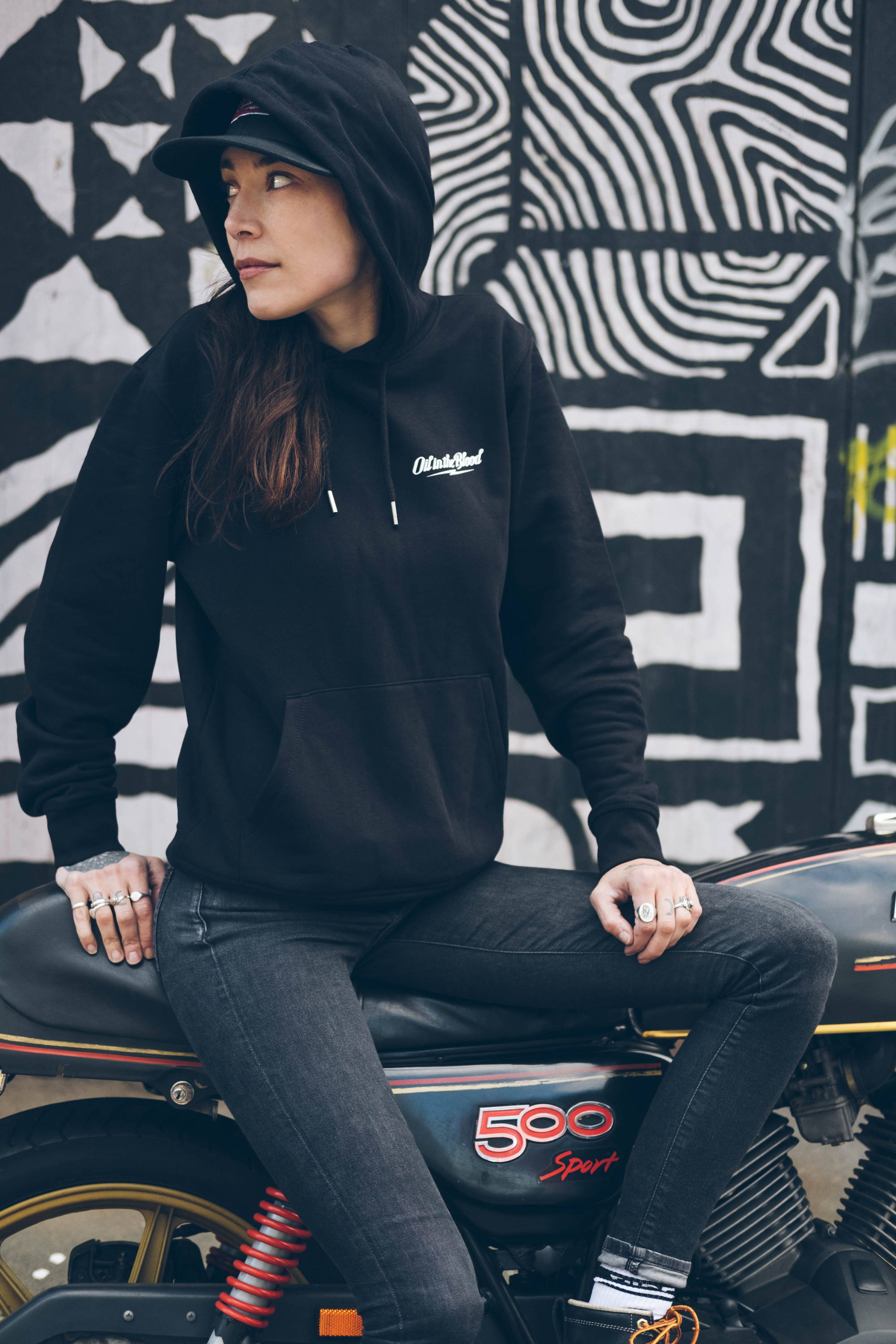 Gareth Roberts is a filmmaker, producer and complete motorcycle nut, his film Oil in the Blood (Available on Amazon) isn't a film about motorcycles but motorcycle people, currently residing in Texas after moving from the UK for a job with Revival Cycles we can think of no one better to kick off our article.
His wife Mégane has worked at Bikeshed previously and runs a Management company TMCC – The Moto Management Company.
Hedon: So first up. How did you meet?
GR: We met at Wheels & Waves in Biarritz in 2014. It was love at first sight over a CB750. It took us another four years to get together, by which time the CB was long gone.
Hedon: Are bikes your escape from life? Or are they life?
GR: They're both. For the longest time bikes were certainly my antidote to working life, the thing I did to get away from work, but in recent years having spent three years making the documentary feature film 'Oil In The Blood' on custom motorcycle culture, and now working at Revival Cycles, they're definitely ingrained in most aspects of our lives.
Hedon: Tell me about the last time you hit the road, just the tarmac and the two of you.
GR : The last time we rode together was at Wheels & Waves in summer 2019. We've recently had a kid, Atticus, who is 20 months old now, so we don't tend to ride as much together anymore. He's already obsessed with bikes, and has many naughty uncles (and aunties) encouraging him onto two wheels
Hedon: Have bikes ever thrown a spanner in the works?
GR : Not really. We've got very similar tastes in bikes. I've had to be 'discouraged' a couple of times from impulse buying bikes we can't afford, but bikes are definitely something central to our life together, so they don't cause discord.
Sam Wilkinson is Producer & Director, known for filming numerous documentaries on BBC and C4 with different presenters from Hugh Dennis to Ed Balls but mainly fellow rider and neighbour Reggie Yates. Avid rider and photographer.
Eleanor Gecks is a former actress who starred in Alice in Wonderland and Dungeons and Dragons, now works as a Production Manager in TV. Harley lover and face of @ukbikergirl.
Hedon : Were bikes involved in you meeting?
SW : We met because I was researching for a new TV series relating to motorbikes and needed a female presenter. I researched for ages who might be good but couldn't find anyone other thank Skin from Skunk and Nancy and a prop from the England Women's rugby team, both who didn't quite fit the brief. But I found myself scrolling on the Mutt Motorcycle instagram page and came across Eleanor who had been an ambassador for the brand so I messaged and we arranged a coffee, which was soon followed by a bike date ride (date) around Richmond park, which was soon followed by many more bike dates and 6 months later we parked our bikes next to each other permanently in South East London when she moved in. Some might say that sounds romantic and cute, others might just say I slid into her DM's.
Hedon : Are bikes your escape from work/everyday life? Or are they so ingrained that bikes are life now?
SW : Oh gosh! Both… we commute to work together every day we're in London together and now even more so because my bike was stolen just before Christmas and so I or she rides pillion. We've got Sena helmet comms so we can have a natter on the road and discuss our day. I like it because before I leave the house I'm too busy waking myself up that we hardly get chance to have a proper natter. We ride a lot outside of commuting as well and will go on weekend ride outs to see friends and family or go off somewhere pretty to do a shoot. For me this is just as much fun as going on a holiday because it combines riding which I love and photography. However sometimes wanting to get the perfect picture is a bit of pressure for Eleanor because she doesn't like to think of riding a bike as another job and taking pics for @ukbikergirl can become tiresome when it's endless. There's a fine balance.
Hedon : Tell me about the last time you hit the road, just the tarmac and the two of you. What was the reason? Where did you go?
SW : Well, the last time we hit the road together was in India I suppose, when were there for NY and January. We got a couple of Enfields to ride for the time we were there and had the most amazing holiday ever. We were based in Patnem but could jump on the bike for the day and head to a different beach down the coast or take a day trip out of the area and get miles away. We had an incredible day riding to Gokarna which felt like it was 200km's away but it was probably just down the road. We packed our bags with mainly water and suncream and hit the main Route 66 between Mumbai and Kerala ready to take the random cows crossing the road, the oncoming trucks play chicken with you and the odd bit of "off-roading" wherever the motorway disappeared and become a gravel track before returning a mile later. When we got to Gokarna we were exhausted because the heat takes it out of you and we were filthy dirty and hungry but it was so worth it because we were out of the "trendy" Goa and into "real" India for a bit which was refreshing. We headed back late and riding with sunglasses on was tricky but it was either impaired vision or an eye full of dust all the way home we it took a fair bit longer on the way back. Awesome day of many awesome days.
Hedon : Has a bike ever caused an argument between you? or do they just bring you closer together?
SW : Ooh, we've had a few but mainly when riding pillion on her bike. I used to ride my Mutt like a BMX and just chuck it around London like I was off-roading whereas Eleanor loves her bike so much, even the thought of a scratch on her tank would make her cry. I must also learn not to squeeze in as much on a Harley as fun as it is!